Hello, my name is Sarah Li, I am an artist working on a project called 'Opening the Closet Doors' in Darlington Hippodrome - exploring the archives for LGBTQ+ stories, inspirations and potentially gaps to make artworks with local LGBTQ+ people. Please click here to read the previous blog post for a brief overview of the project.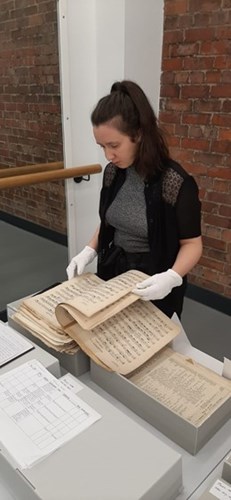 Artist Sarah Li looking through the Darlington Hippodrome archives.

Image description: Colour photo, interior. A white non-binary human with brown hair tied in a pony tail and a sparkly top is wearing white gloves and looking through musical scores in the archive. Image credit: Edwin Li

I am delighted to introduce you to the incredible historian who I have been working with on this project and who will share with you an aspect of LGBTQ+ history in theatre that can be traced with some of the items in the Darlington Hippodrome archive: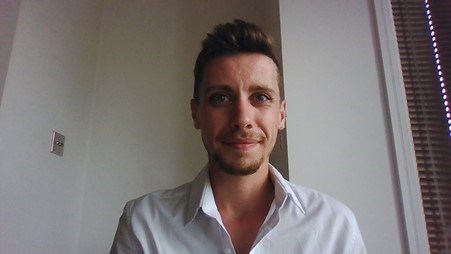 PhD history candidate James Davison

Image description: Colour photo. Interior. Head and shoulders of a white man with brown hair and blue eyes. He looks directly into the camera with a smile. He is wearing a white shirt. He has one earring. Image credit: James Davison

Hi my name is James, I'm a PhD candidate at the University of Liverpool where my research focuses on examining the evidence surrounding Trans* lives in the early Medieval past. My role in this project was to help examine the archives so generously made available by Darlington Hippodrome Theatre, and to put the findings into some historical context.

Finding evidence of LGBTQ+ people and themes in theatre is not as straightforward as might be imagined. In terms of finding individual people, the peripatetic lifestyle of actors, a predilection for stage names, and the risk involved in being openly LGBTQ+ means that verifiable accounts of LGBTQ+ people in theatre are exceptions until relatively recently. With regards to productions, until 1968 every play had to be approved by the Lord Chamberlain's Office, whose duty it was to uphold what was considered Britain's moral standards. This office enforced a strict ban on any themes considered 'immoral' (read: LGBTQ+), and would prohibit performances of plays containing such themes. This led to playwrights masking LGBTQ+ characters and themes, either in their original drafts or in edits after rejection by the Lord Chamberlain's Office, and to unknown numbers of LGBTQ+ stories being lost under a cisgender and heterosexual veneer.

Darlington Hippodrome was somewhat ahead of the curve, putting on two plays with LGBTQ+ backgrounds prior to the role of theatre censor being abolished by the Theatres Act of 1968. The first of these was Michael MacLiammoir's 1965 'The Importance of Being Oscar', a biographical play about the controversial Oscar Wilde, covering his arrest, trial, and imprisonment for 'gross indecency', and the poet's reflections following his release upon his life and behaviour.

The second is a 1967 play by Shelagh Delaney, 'A Taste of Honey', wherein the main character, Jo, moves in with Geoffrey, a gay student, who takes on the role of surrogate father to Jo's unborn child. This play was begrudgingly approved by the Lord Chamberlain's Office, although the character of Geoffrey caused some consternation. It is interesting to consider the reasons for these plays being approved. Granted both were produced at a time of mounting pressure for acceptance of LGBTQ+ people and might well not have passed the bar in earlier years, but importantly both plays conform to a 'bury your gays' format, where Oscar and Geoffrey suffer as a result of their orientation. Indeed, the opinion of the Lord Chamberlain's Office was that Geoffrey seems not to have suffered enough, and is a well-rounded character written to elicit more than scorn or pity from the audience.

Immediately following the Theatre Act, Darlington Hippodrome included a number of plays with LGBTQ+ characters and themes in their programmes. These include the Noël Coward play 'A Song at Twilight', in which an ageing author is confronted by his memories of a same sex relationship which he had buried in the years since it ended. David Kirk's 1969 'The Killing of Sister George' also played at the Darlington Hippodrome, a dark comedy which centres on the rather unhealthy relationship between radio-actress June Buckridge and Alice "Childie" McNaught. June and Alice live together and it is strongly implied that they are a couple, Kirk did not intend for the play to be a serious discussion of women in same-sex relationships, so the womens' identities are never confirmed.

This was an exciting project to have been involved in. It was heart-warming to know that during the 1960s the Darlington Hippodrome was pushing boundaries to advance the representation of LGBTQ+ stories in theatre, and this project demonstrates that this commitment to equality is still alive and well today. With such consistency it is not unreasonable to imagine that the Hippodrome served as a haven where our LGBTQ+ forebears could flourish in safety during decades where it was even harder for them to live genuinely fulfilled lives.


'Opening the Closet Doors' film will be screened at the Darlington Hippodrome on 11th August 2022. Keep your eyes peeled for more information!

This project is supported by Arts Council England, Darlington Hippodrome, Creative Darlington, LGBT+ NSG, County Durham Community Foundation (The Dover Art Prize), SAN North East and Rianne Pictures. Thank you to Helix Arts who supported the project throughout the R&D stages of the project.