As employees of Darlington Borough Council, Hippodrome staff are currently working to support the Covid-19 mass testing scheme in Darlington. We're more used to dealing with the front row but we're proud to be supporting the front line in the fight against Covid-19.

As a consequence, the Hippodrome box office is operating on reduced hours and phonelines are currently closed to incoming calls.

You can email us at hippodrome.boxoffice@darlington.gov.uk and we aim to respond to your email as soon as we can within seven days. If you would like to speak to a member of staff via phone, please email and let us know a convenient phone number and time so that we can call you.

Thank you for your patience and we look forward to welcoming you to the Hippodrome again soon.

Read on below to learn more about the mass community testing centres and how you can get tested...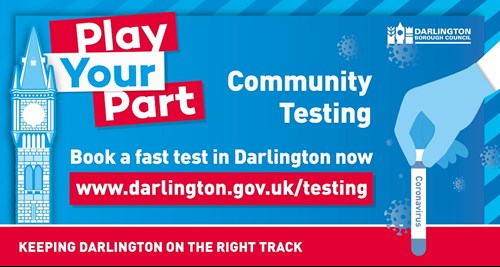 What is mass community testing?

1 in 3 people who have Covid-19 have no symptoms. The point of mass community testing is to find people who display no symptoms but who have Covid-19 – and could be infecting others without knowing it.

Taking a community test is just another way we can keep Darlington on the right track. We all need to continue to play our part to keep our family, friends and colleagues safe.

How do I get a test?

The tests, available at six sites across Darlington, MUST be booked. There are no walk-in slots available.

If you take a community test at one of our locations in Darlington, it will be a lateral flow test. This involves a hand-held kit, which will give a result in about 20 minutes.

Please remember that a negative test means you are not infected today but you could become infectious at any time. You must continue to follow the hands, face, space guidelines and the national rules on mixing with people.

Even if you test negative, we strongly encourage you to book another test within a week, to improve our chances of detecting positive cases.

See more information and to book an asymptomatic test at one of six test centres.

Anyone with a positive result should immediately self-isolate, stay at home and away from other people for 10 days to avoid spreading the virus. After 10 days isolation it is advised you take an NHS test to ensure you are not still infected. You can view further information if you need support while you are self-isolating or you can call the community support HUB Monday to Friday on 01325 405000.